Baby Shower Hosting & Packages
There is nothing better to celebrate than a New Baby and a Mummy to Be and a Baby Shower is the perfect way! We can help you with everything from arrival drinks, games to finishing touches such as balloon boxes and flower walls.

We have a range of packages to suit all needs and budgets.
Arrival Drinks
We can serve your guests when they arrive at your Baby Shower so you can start the day off in style!
You can have a choice of Prosecco, Bucks Fizz and Fruit Juice served from a table which we will dress to match your colour theme which will include an elegant balloon bouquet.
Our Prosecco Wall allows your guests to reach for a glass of bubbly fun on arrival.
Guests can have a pimped Prosecco in one of our traditional Champagne Saucers. Each glass will be accompanied with Candy Floss, Fruit, Striped Straw and Stirrer.
- Drinks Table: £15.00
- Prosecco Wall: £65.00
- Pimped Prosecco: £125.00
Photo with Mummy to Be
You want to be able to remember who came to your Baby Shower and what is a better way then with a photo! We can take a photograph of you and your guest in front of a beautiful backdrop along with our Baby Balloon Blocks.
We then send these to you on a USB Stick.
This backdrop and Baby Balloon Blocks will be available for the whole of your event and we then also provide you with some photo props and personalised Instagram Frame so that you and your guests can take your own photos.
£120.00
Signing Tree
Our white trees are beautiful with hanging crystals which are decorated to match your colour theme.
White or coloured lighting is used to highlight the beauty of these trees.
We offer a choice of tags for your guests to sign and hang on the tree to match your colour theme. These tags will be placed on a elegant holder for guests to take from and write their wishes to you and the Baby. We also provide you with a Swarovski Crystal Pen for your guests to use.
At the end of your Baby Shower we collect the tags and place them in a Keepsake Box for you.
£75.00
Games
Best part of the Baby Shower is the games that can be played!
We can arrange the following games for you and your guests.
- Guess the Size of the Bump
- Guess Celeb Baby
- Guess the Guest Baby
- Baby Bingo
- Who Knows Mummy Best
We also provide instructions and a prize for the winners.
£45.00
Buffet
During your buffet we ensure your guests are happy by offer more food around on trays and clearing tables of plates and glasses and getting anything your guests require.
£25.00
Cake Cutting
Everybody loves cake! We will place your cake pride of place on our cake table. We provide you with our themed cake knife to cut your cake. Then we will release a party cannon which will shower you and your guests in confetti (and we clean it up).
Once the cake presentation is finished we then cut the cake for you and this can then be either eaten during your shower or placed into bags ready for your guests to take home at the end of the day.
We can recommend our preferred cake supplier Laura Butler of The Cake Hut where we can collect and deliver your cake to your event.
www.facebook.com/Infothecakehut/
£15.00
Present Table
Keep all your presents safe and in one place with our present table.
We will place a coloured/themed table cloth on the table along with a light box which will say "Hannah's Baby Shower" (Your Name) or any wording you require. Bunting will be hung on the table/wall spelling out "Presents" this will be available in pink or blue glitter and to finish off the table a double bunch of helium balloons floating from a presentation box which will match your colour/theme.
After you have had your buffet we then arrange the gift presentation. The table will be placed where you are sitting and then the gifts handed out. We keep a list of what each person buys you so that you have a list for your Thank You Letters we clear up all the wrapping.
Once all the gifts are open we will then pack them up for you and place them in a safe place until the end of your event.
£15.00
Social
Once all the formalities have taken place then you will be able to socialise with guests.
You will be able to take photographs in front of our photo back drop and we will provide you with photo props including our personalised Instagram Frame.
£15.00
Gift for Guests
At the end of your Baby Shower we set up a table which we will place your favours for your guests. This will include a table with coloured/themed table cloth a double bunch of helium balloons floating from a presentation box which will match your colour/theme. We also add our Light Box with the wording "Thank You for Coming".
We have a choice of favours that you can choose from:

- Sweet Kebab - 75p
- Sweet Baby Bottle - £1.00
- Popcorn Box - £1.25
- Mini Sweet Bag with Giant Jazzies - £1.40
- Sweet Cone - £1.50
- Tea Light - £1.50
- Sweet Bucket - £1.75
- Gift Bag for Favours - £1.25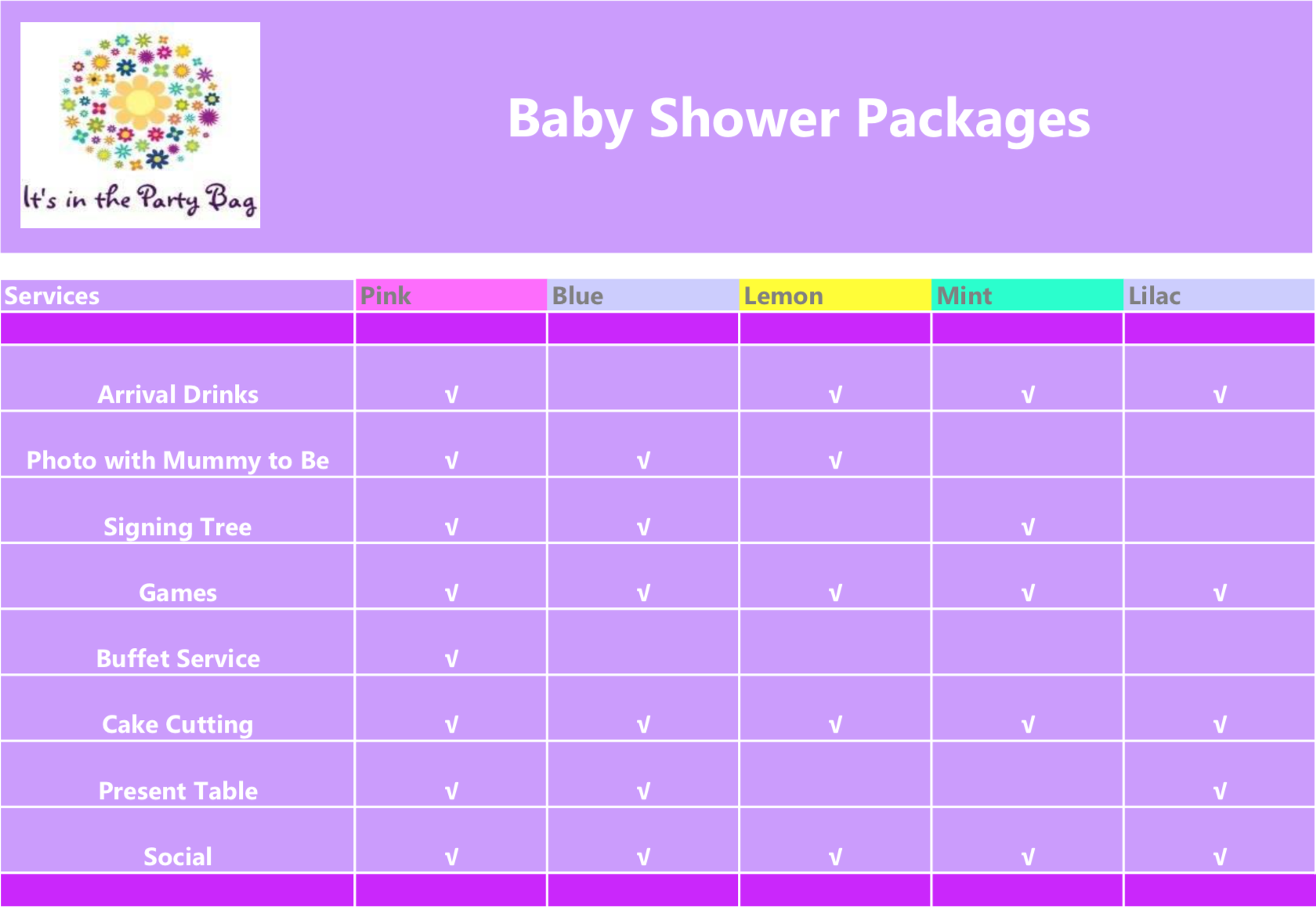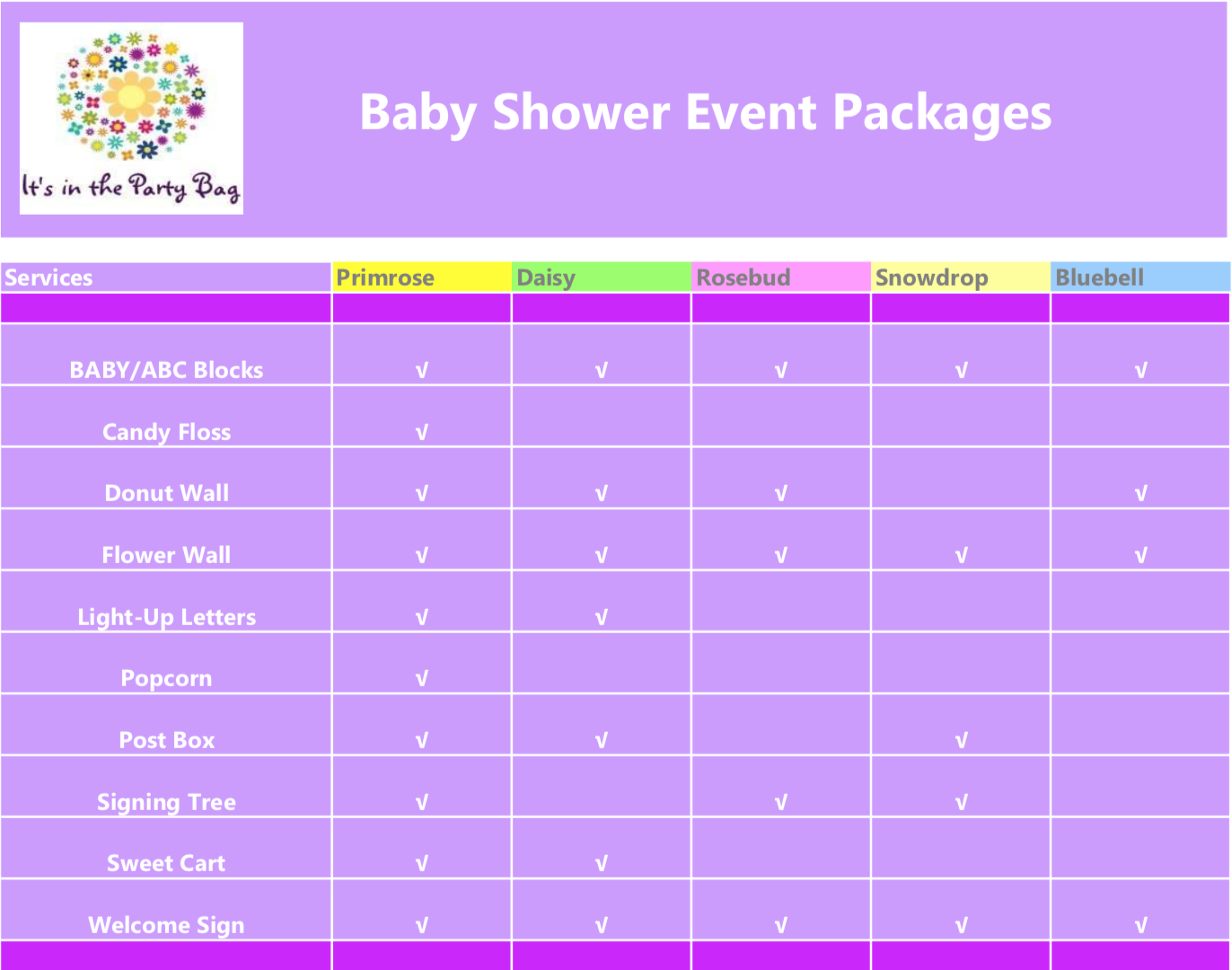 Deposit of £25.00 to secure your date and then the balance 4 weeks before.
Payment plans are available to spread the cost of your event.